Gansu Grand Theater
Gansu Grand Theater is a cultural landmark, a conference center and the window of cultural industry of Gansu province. With a total construction area of 37,000 square meters and a total investment of 450 million yuan ($71.35 million), Gansu Grand Theater has a theater and town hall which can accommodate 1,500 people and an auditorium which can host 300 people. It is also equipped with facilities for press releases, VIP reception and meetings. The theater mainly hosts large-scale opera and dance performances, as well as music, folk arts, acrobatics and drama presentations. It can also undertake provincial and municipal conferences and various types of international conferences and business meetings. To date, it is the largest and the most advanced performance and conference building in Gansu province.
In November 2011, Gansu Conference and Exhibition Center Co Ltd and CPAA Theaters under China Arts and Entertainment Group (CAEG) established Gansu Grand Theater Management Co Ltd, which is responsible for the operation and management of Gansu Grand Theater.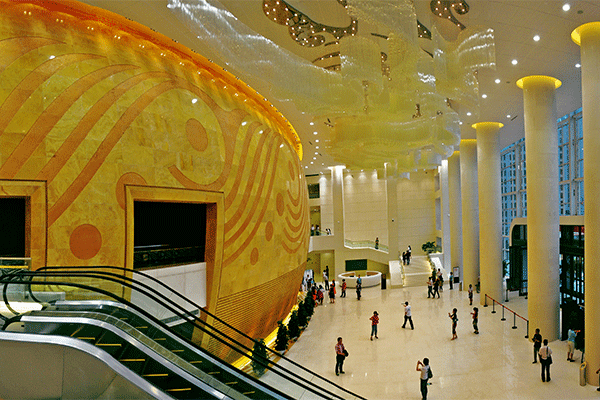 Gansu Grand Theater aims to nurture and boost the local cultural market, bring refined art to local people and guide them to appreciate the fine arts. While bringing an excellent repertoire from home and abroad, the theater also vigorously supports local cultural creations. During the past 12 performance seasons, it has introduced more than a hundred performances from home and abroad. Nearly 460,000 viewers felt the charm of the elegant art at the theater and the average attendance was close to 80 percent.
The theater has greatly stimulated the cultural performance market in Gansu province, enriched the public's cultural life, and effectively seeded cultural performances as a guide in society, educating the people and promoting their development. Gansu Grand Theater has worked with colleges and universities of the province and launched a series of art education activities such as a training program for children's ballet, and invited nearly 40,000 individual role models, vulnerable groups and literary and art workers to watch performances for free. It has been widely praised by the local government and the community.