Beijing Tianqiao Performing Arts Center
Beijing Tianqiao Performing Arts Center is located on the Tianqiao South Street in Xicheng District. It has an area of 1.65 hectares and a building area of 75,000 square meters. The construction started in March 2012 and it was officially opened on November 20, 2015. As a comprehensive theater complex, the Tianqiao Performing Arts Center has four venues, among which the Grand Theater (1,600 seats), equipped with world-class stage facilities, is the first and only theater in Beijing designed professionally for musical theater. There is also a Lyric Theater (1,000 seats), a Studio Theater (400 seats), and a Theater Lab (300 seats).
The Center strives to become a professional, embracing, international, and market-oriented establishment. Its state-of-the-art facilities, professional management and world-class repertoire create great performance experiences.
The Beijing Tianqiao Performing Arts Center is not only an international stage featuring musical, drama and family shows but also an exchange and innovation platform for international arts and culture. Through diversified operation strategies, the center aims to create a brand new model for the performing arts industry, bring together a top-level classic repertoire, create excellent domestic stage products and promote the international development of performing arts in Beijing.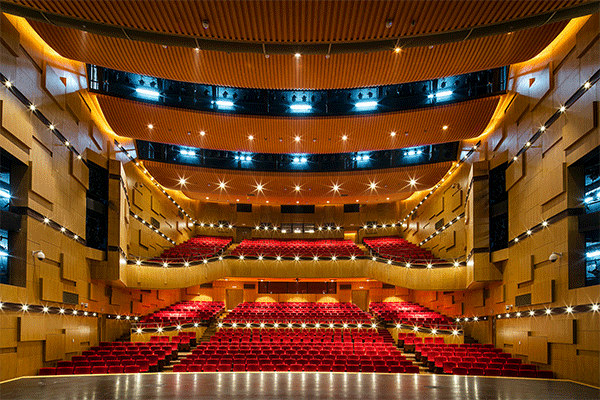 Nearly 30 exciting repertoire performances were staged in the first three months after the theater's 2015 opening. In 2016, the "Eight Performance Series" brand achieved integrated development of local and international performing arts and demonstrated the charms of China's stage arts to the world.
The Beijing Tianqiao Performing Arts Center has the top professional musical theater in China and continuously introduces international hits. The center also helps with productions of domestic musical classics. Relying on the Young Artists Project, the center looks for and carries forward the blending of traditional Chinese culture and modern art. The center brings together Chinese and foreign classical musicals to promote the popularization and development of musicals in China.
The Beijing Tianqiao Performing Arts Center organizes a variety of activities to provide arts fans with a platform to engage with art, and to learn about and enjoy it. The center also focuses on creating a series of activities including art lectures, master classes, workshops, rehearsal classes, pre-show tours, post-show talks and other forms of art activities and mini-shows. Meanwhile, the center functions as a training base for art talents, providing a platform for growth and exchange for stage art learners, fans and workers.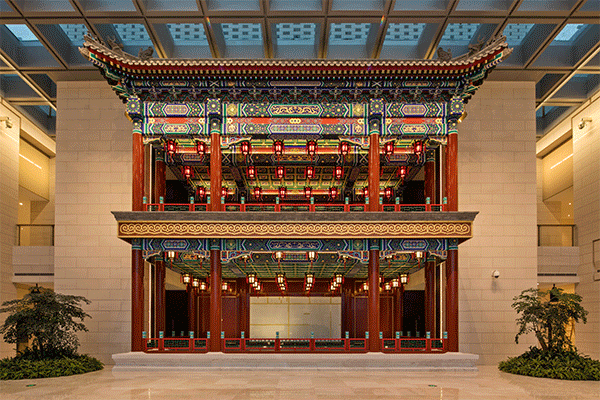 The Beijing Tianqiao Performing Arts Center organizes art salons, industry seminars and forums on a regular basis to serve the industry and establish a brand image through market-oriented operations. It brings together industry authorities to seek market development and to create an influential performing arts cultural highland in China.
Beijing Tianqiao Performing Arts Center is managed by Beijing Tianqiao Performing Arts Center Management Co Ltd. The company is co-founded by subsidiaries of China Arts and Entertainment Group (CAEG) and subsidiaries of Beijing Financial Street Investment Group Co Ltd.
Shareholders
Beijing Financial Street Investment Group Co Ltd was established in 1992. After over 20 years of development, the company has assets valued at over 150 billion yuan ($23.78 billion). Its business involves real estate development, government key projects, finance and insurance, property operation, property management and cultural investment in more than 10 provinces, municipalities and autonomous regions of China. The company has over 100 subsidiaries.
With a total of 19 wholly owned domestic and foreign enterprises and a number of holding and joint-stock companies, China Arts and Entertainment Group (CAEG) is the largest supplier and operator of Chinese performance and art exhibitions in the world. It is also the only enterprise group in China involved in both global performances and art exhibitions. In addition to major festivals, performances and exhibitions including "Meet in Beijing" Arts Festival, the Asian Arts Festival, the Venice Biennale China Pavilion and the China International Chorus Festival and others, CAEG is one of the main contractors commissioned by the Chinese Ministry of Culture to host the China-France Cultural Year, the Year of China in Russia, the Year of Russia in China and a series of major performances and exhibitions.