China International Chorus Festival concludes in Beijing
The 14th China International Chorus Festival (CICF) concluded in Beijing on July 25.
The curtain rose on the CICF on July 19 at Beijng's Wukesong Arena, with more than 15,000 members of 308 choirs from 59 countries and regions joining the event.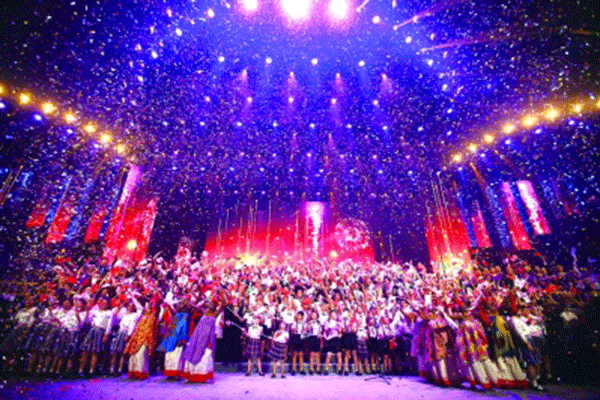 The opening ceremony of the 14th China International Chorus Festival is held at Beijng's Wukesong Arena on July 19.
The week-long event presented 263 activities in 15 categories including variety shows, a choral education conference, masterclass workshops and charity concerts.
Founded in 1992, the biennial CICF has attracted over 1,000 choirs and 75,000 choral music lovers from more than 100 countries and regions in its 14 editions.
It has developed into an important platform for promoting choral education, publicizing Chinese culture and showcasing the talents of domestic and overseas art troupes.

Guo Min, the granddaughter of Chinese musician Xian Xinghai (2nd, L), and the daughter of Xian's friend, Kazakh musician Bakhitzhan Baykadamov (3rd, L), recall the touching story of the friendship between the two musicians during the festival.
On July 20 and 21, a group of experts and choir organizers exchanged ideas on the role of choruses in musical education and on how to improve teenagers' aesthetic taste and choral skills during the IFCM World Choral Education Conference, which coincided with the CICF.
Zhu Jianmin, principal of Beijing No 35 Middle School, said choral training can significantly cultivate students' lofty sentiments and team spirit.
An American representative, Sandra Chandler, is devoted to the creation and performance of choruses in middle schools and communities. A member of the American Choral Directors Association and the National Association of Music Education, Chandler said that although choirs with members of different ages and backgrounds face challenges, they may realize unexpected positive results. "Thanks to the mutual learning and experience sharing, chorus is becoming a good social activity," she added.
This year, with help from the China Children and Teenagers' Fund, the festival put on stage at Beijing Tianqiao Performing Arts Center on July 23 nine choirs consisting of students and teachers from Jilin, the Inner Mongolia autonomous region and Hubei, Shaanxi and Yunnan provinces.
In the past six years, the CICF has sponsored 14 choirs from poverty-stricken areas of more than 10 provinces like Sichuan, Guizhou, Hunan and autonomous regions like Ningxia Hui and Inner Mongolia.
The CICF pays a lot of attention to the popularization of choral art and education. Its masterclass workshops in particular have trained more than 8,000 front-line musicians, improving their choral level and gaining universal praise.
Li Jinsheng, Party secretary of the CAEG, said the CICF has played a significant role in promoting cultural exchange between China and the rest of the world by popularizing choral art and education, enhancing public welfare and boosting integrated development of culture and tourism.