Musical reunion spreads notes of harmony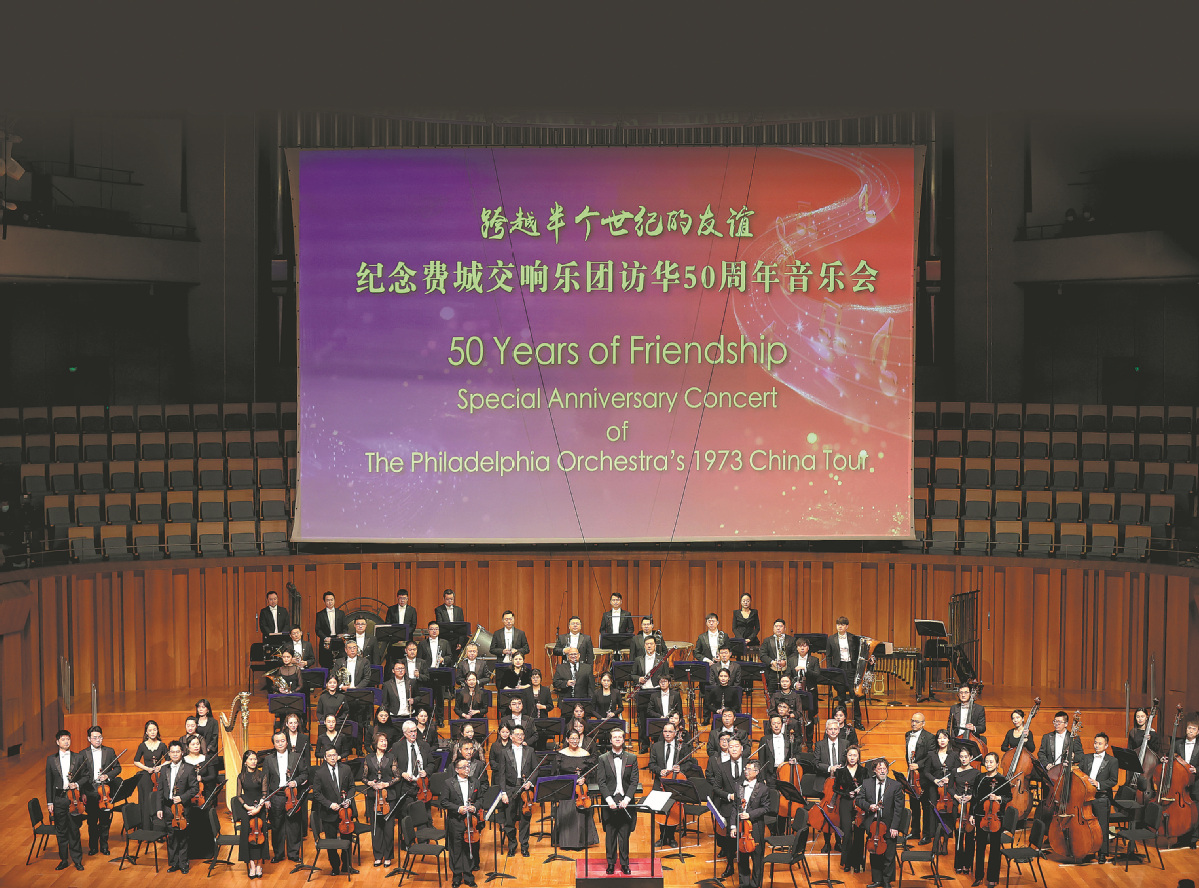 Musicians acknowledge the audience after a special concert to commemorate the 50th anniversary of the Philadelphia Orchestra's visit to China at the National Centre for the Performing Arts in Beijing on Friday evening. JIANG DONG/CHINA DAILY
Philadelphia Orchestra's China visit 50 years ago relived

On Friday afternoon, the National Centre for the Performing Arts in Beijing, or NCPA, was bustling with visitors as usual.

Ranging in age from young students to seniors, they were eager to see the iconic venue, which opened in 2007, and is known for attracting top artists from around the world.

In a VIP room, Zhu Xinren, 90, inspected photographs of musicians who have performed at the NCPA, which were hanging from the walls.

Rising early that morning to don a smart suit, Zhu was eagerly anticipating meeting an old friend he had not seen for 50 years.

Sensing crowds entering the room, Zhu turned around and smiled. Reaching out, he shook the hand of gray-haired Davyd Booth, who said: "This is an incredible meeting. I am so happy to meet you."

Zhu replied: "I'm happy, too. It's been 50 years, and I'm now 90 years old." Booth said: "I'm 73. You look great."

In 1973, under the direction of Eugene Ormandy (1899-1985), the Philadelphia Orchestra became the first orchestra from the United States to perform in China since the founding of the People's Republic of China in 1949.

Since that visit, the orchestra has returned 12 times, developing deep, impactful connections throughout China as a result of concerts and residencies that led to people-to-people exchanges.

Booth, who was 23 in 1973, was the orchestra's youngest violinist.

He was not supposed to join the China tour that year, but he received a phone call telling him he was needed as a replacement for a musician who could not make the trip. Booth was both shocked and thrilled. He did not even have a passport at the time.

During the tour, the Philadelphia Orchestra met and worked with musicians from the China National Symphony Orchestra, formerly known as the Central Philharmonic Society. Zhu was the Chinese orchestra's first violinist.

At their reunion, Booth told Zhu, "We can play Bach's Double," referring to Bach's Concerto for Two Violins in D Minor.

"No, I cannot play now. I played as a violinist for 40 years and later worked in the managing group, but I have not played the violin for a very long time," Zhu replied.

Booth said, "No, I'm sure you can," adding that it was his 51st year playing as a violinist with the Philadelphia Orchestra.
A children's choir performs the Chinese folk song Jasmine Flower with the Philadelphia Orchestra on Thursday in Beijing. JIANG DONG/CHINA DAILY
Memories shared

The pair shared memories of the rehearsals they had together in Beijing, which included playing Beethoven's Fifth Symphony under the baton of conductors Li Delun (1917-2001) and Ormandy. They agreed that these rehearsals seemed "just like yesterday".

Booth said: "It (the meeting with Zhu) gave me goose bumps. This is the greatest thing. We have built relationships, we have built friendships with people for such a long time. This is definitely a highlight of my trip to China."

After their short meeting, they walked to the NCPA concert hall, where musicians from the China National Symphony Orchestra and the Philadelphia Orchestra were rehearsing for a concert that night.

Booth took out his violin and sat among the musicians from both orchestras on the stage, while Zhu sat in the last row of seats, watching quietly.

The musicians performed Beethoven's Fifth Symphony, Leonard Bernstein's Overture to Candide, and Chinese works such as The Moon Reflected on the Erquan Spring by composer Hua Yanjun. This work, arranged by Wu Zuqiang, was also played during the Philadelphia Orchestra's China tour in 1973.

The music was played under the batons of Li Xincao, chief conductor of the China National Symphony Orchestra, and Tristan Rais-Sherman from the US, who was named assistant conductor of the Philadelphia Orchestra in June.

In September, the US orchestra announced on the anniversary of its first concert in China 50 years ago that 13 of its members planned to travel to China for residency activities to mark the occasion.

Booth is the only member of the latest tour who joined the orchestra's visit to China in 1973.

Matias Tarnopolsky, president and CEO of the Philadelphia Orchestra, said: "Music has the power to connect and build bridges. We are delighted to commemorate the orchestra's historic 1973 tour and our 50-year relationship with the people of China during this residency.

"The 1973 tour is remembered to this day by many in China as a symbol of deep musical friendship, and we hope that our music-making will continue to build bridges between our people and cultures."

A special ceremony took place before the concert at the NCPA on Friday, which was hosted by China's Ministry of Culture and Tourism and organized by China Arts and Entertainment Group.

Tarnopolsky presented a complete score of Beethoven's Fifth Symphony to the China National Symphony Orchestra, which Tarnopolsky said was a symbol of gratitude. Rais-Sherman also presented Li Xincao with a baton.

"During their meeting in Beijing in 1973, the Central Philharmonic Society of China presented a beautiful gift to the Philadelphia Orchestra — a Chinese percussion instrument," Tarnopolsky said.

"Ormandy, our music director at the time, played Beethoven's Fifth Symphony after receiving that gift. Now, 50 years on, we would like to express our gratitude and give you this score in return."

The China National Symphony Orchestra gave the US ensemble a complete score of the classic Chinese work Ode to the Red Flag composed by Lyu Qiming, and a vinyl disc of the Chinese piano concerto The Yellow River.

Tarnopolsky said: "It's exciting to see musicians from the two countries playing side by side. We are unified, and music is truly a universal language."
Davyd Booth, violinist with the orchestra, hugs Zhu Xinren, former first violinist with the Central Philharmonic Society, as they are reunited after 50 years. JIANG DONG/CHINA DAILY
Tour schedule
During the ongoing China tour, which started on Thursday and is due to end on Saturday, the Philadelphia Orchestra will visit Tianjin, Shanghai and Suzhou, Jiangsu province.

Last Saturday, the orchestra gave a performance at the Tianjin Juilliard School, which featured musicians from that school, the Tianjin Symphony Orchestra and Tianjin Conservatory of Music. On Friday, the orchestra is due to give master classes, panel discussions and a chamber performance at ShanghaiTech University.

Early this year, the Philadelphia Orchestra partnered with the iSING! Suzhou International Young Artists Festival to present ancient Tang Dynasty (618-907) poems set to new works by young composers from around the world.

During the concert on Friday, the orchestra also performed selections from those works related to Tang Dynasty poems, such as Drink to Me by Li Bai and Upon the Crane Tower by Wang Zhihuan.

Rais-Sherman said: "This is my first visit to China. I am getting to know about this country, especially when I prepare and perform works of music based on Tang Dynasty poems."

The US orchestra's landmark tour of China in 1973 came a year after then-US president Richard Nixon visited the country.

The Philadelphia Orchestra was considered a natural choice for Nixon, who had been honored at its anniversary concert the previous year.

Ormandy was also considered suitable, as he had conducted a China Relief concert in Australia 30 years before, and took part in charity concerts to raise money for Chinese health workers in 1940 during the War of Resistance Against Japanese Aggression (1931-45).

On Oct 30, the China National Symphony Orchestra launched a salon in Beijing, featuring Zhu and its former violinist, 88-year-old Yang Shi, who played in 1973 with the Philadelphia Orchestra.

At that time, there were no direct flights between the US and China. The orchestra spent a night in Honolulu, then flew to Tokyo, before finally arriving in Beijing. It played four concerts at the Cultural Palace of Nationalities in the Chinese capital, and the musicians visited scenic spots, including the Great Wall, the Summer Palace and the Forbidden City. They also watched the ballet The White Haired Girl.

"This had never happened before, so we were all very excited after hearing the news that the orchestra was coming to China," Zhu said. "We were the first group of musicians with the orchestra, but our skills were not so good as those of young musicians today. However, we all prepared fully in the hope of performing to our best.

"During one rehearsal with conductor Li Delun, we played the first movement of Beethoven's Fifth Symphony for the American visitors. Li then asked Ormandy to conduct, and after a few bars, we played very well together."

Ormandy later asked the Central Philharmonic Society to play a Chinese work, and Li conducted The Moon Reflected on the Second Spring. Ormandy was so impressed by the music that he asked for a score of it.

A photograph of the Philadelphia Orchestra's visit to China in 1973 captures its musicians showing crowds in the capital how to play Frisbee.

"The orchestra's visit made headlines. It was not only a musical exchange, but also communication between the American musicians and the Chinese people," Zhu said.
Eugene Ormandy, the Philadelphia Orchestra's music director, rehearses during the 1973 tour of China. [Photo/China Daily]
Concerto performed

After performing in Beijing in 1973, the US orchestra gave two concerts in Shanghai.

On Sept 22 that year, after ending its tour of China, the orchestra returned to the US. In its next performance season, Ormandy conducted the orchestra and pianist Daniel Epstein in recording The Yellow River, becoming the first US orchestra to record a Chinese piano concerto.

On Thursday, the Philadelphia Orchestra gave a small concert at the Diaoyutai State Guesthouse in Beijing, in which four of its musicians performed Chinese and US works with a Chinese children's choir.

Booth, the violinist, said: "One thing that touched me was that young people were playing alongside older people … this constantly builds upon the great foundation and great musical heritage that both countries share."

He is also amazed by the exciting classical music scene in China, especially the nation's young musicians, who "have contributed to music throughout the whole world".

"China has produced great soloists, such as Lang Lang and Yuja Wang, who are superstars," he said. "We have quite a few Chinese players in the Philadelphia Orchestra. Of course, they are family to us, which makes China family to us.

"Music is something that strongly brings people and countries together. Over the years, we have definitely seen the fan base for classical music to grow in China."

Looking back over the years, Booth said: "We realized just how many people were deeply touched by our first concerts in 1973. That tour was a pivotal moment in our lives, and remains so to this day."

He also referred to the internationally acclaimed composer Tan Dun as a "very vivid case".

In 1973, Tan was in Hunan province, when concerts performed by the Philadelphia Orchestra were transmitted and played over the fields in which he was working. He was so moved that he wanted to devote his life to music.

Booth said, "Tan has since become a worldwide superstar, but he still talks about the influence that our first concerts in China had on him."

In September, when the Philadelphia Orchestra toured North Carolina in the US with Nezet-Seguin, its music and artistic director, Booth received a message during a concert saying that someone wanted to speak to him.

It turned out to be a Chinese family. The man and his wife had been to one of the orchestra's concerts in China in 1973. They were extremely touched by the performance, and were now living in North Carolina.

"They wanted to touch base with somebody who was there. That was really an incredible personal moment that showed me the influence that those concerts and our trips to China over the years have had on people everywhere," Booth said.
Children welcome the Philadelphia Orchestra during its 1973 tour of China. [Photo/China Daily]
Ormandy and the Philadelphia Orchestra perform at Beijing's Cultural Palace of Nationalities. [Photo/China Daily]