East Meets West concert held in London
A concert featuring Chinese and Western compositions was held in the Cadogan Hall here on Thursday evening.

Under the theme of "East Meets West," the concert featured musical works with Chinese elements, such as "The Torch Festival" and "Internet Symphony 'Eroica'," along with Western compositions like "Cockaigne Overture," eliciting sustained cheers and applause from the audience.

"To me, it opened a conversation and more opportunities to cross-cultural events," local audience member Krystina McNeill commented, adding that the way the concert "seamlessly" integrated Chinese and Western musical elements was "a great success."

During the concert, Chinese conductor Qian Junping led the London Philharmonic Orchestra with two prize-winning Chinese soloists.

"I really hope that Chinese music can be performed more, and also be accepted and liked by more people in the West," said Yang Xuefei, a Chinese guitarist who performed "Guitar Concerto: A Lovely Rose."

As part of a cultural exchange initiative titled "Image China," the concert was produced by the China Arts and Entertainment Group with the aim of introducing traditional and contemporary Chinese performing arts to audiences around the world.

"Image China" has presented more than 600 performances across the globe and attracted millions since its launch in 2009.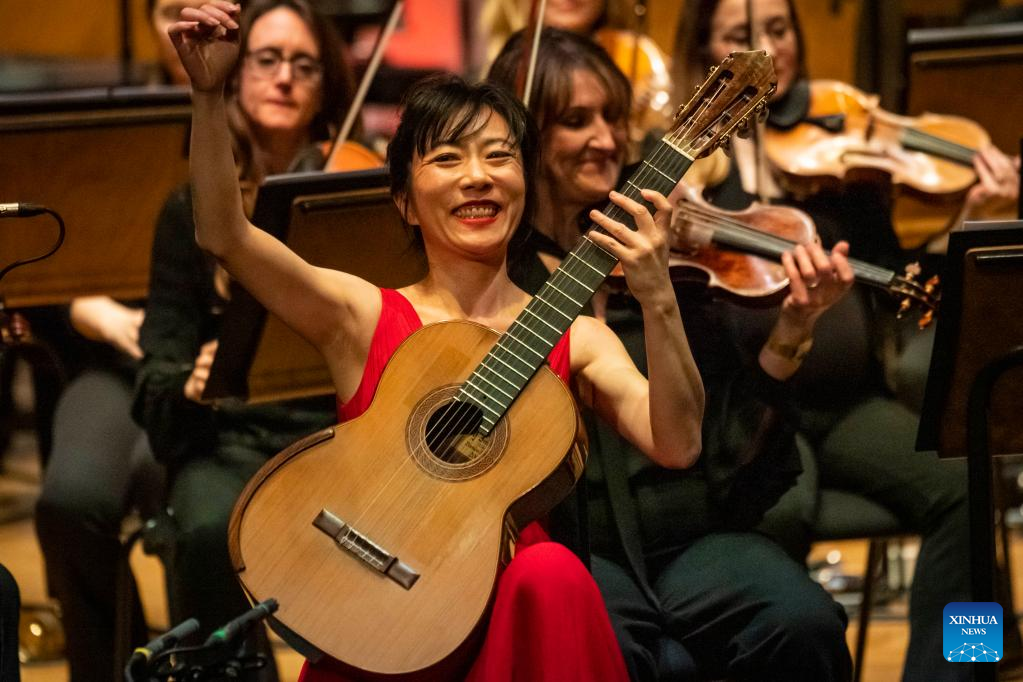 Chinese guitarist Yang Xuefei (Front) performs during East Meets West concert in London, Britain, on April 13, 2023. The concert featuring Chinese and Western compositions was held in the Cadogan Hall here on Thursday evening. [Photo by Stephen Chung/Xinhua]
Chinese conductor Qian Junping is seen during East Meets West concert in London, Britain, on April 13, 2023. The concert featuring Chinese and Western compositions was held in the Cadogan Hall here on Thursday evening. [Photo by Stephen Chung/Xinhua]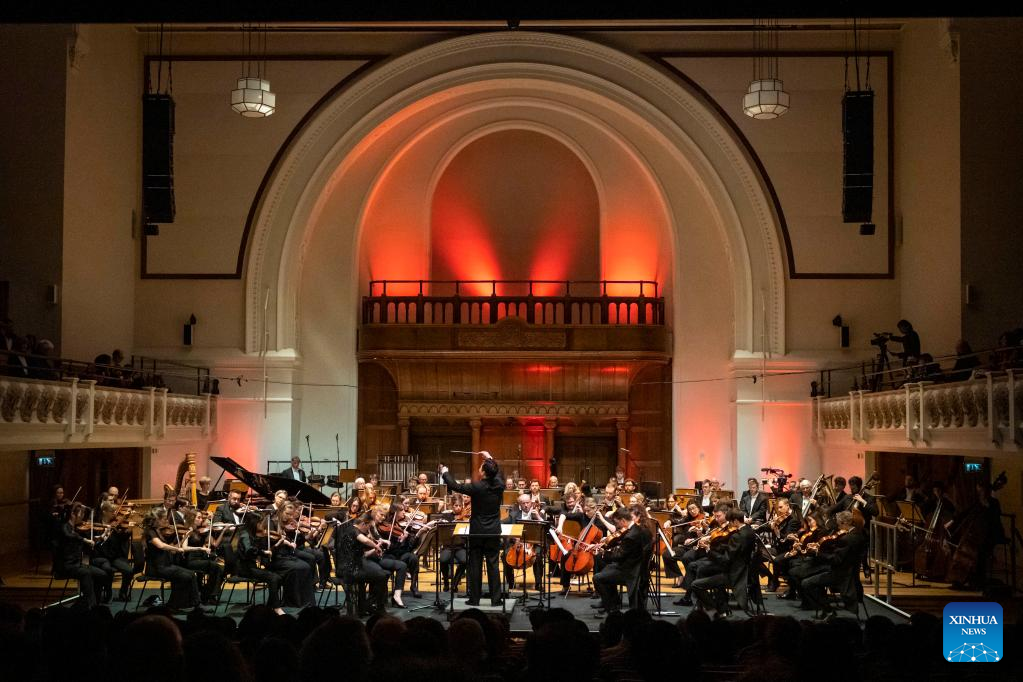 Photo taken on April 13, 2023 shows a view of East Meets West concert in London, Britain. The concert featuring Chinese and Western compositions was held in the Cadogan Hall here on Thursday evening. [Photo by Stephen Chung/Xinhua]
Violinist Ning Feng performs during East Meets West concert in London, Britain, on April 13, 2023. The concert featuring Chinese and Western compositions was held in the Cadogan Hall here on Thursday evening. [Photo by Stephen Chung/Xinhua]