Chinese Ambassador to Italy visits the China Pavilion at the Venice Biennale
On July 7, Chinese Ambassador to Italy Li Junhua, his wife Bai Yongjie and Cultural Counselor Xu Rong led a group of five people to Venice to visit the China National Pavilion at the 59th Venice Biennale.

The staff of the China Pavilion gave a brief background of the biennale event and  explained to the ambassador and his party  the perspectives of the exhibition theme, curatorial concept and participating artists. Ambassador Li Junhua congratulated the China Pavilion and expressed his appreciation for the work done despite the background of the pandemic. The delegation also visited the Hong Kong Pavilion, the Macau Pavilion and the Italian Pavilion.

The theme of this biennale is "The Milk of Dreams". The China Pavilion responded with the theme of "Meta-Scape", and selected five pieces   of works by four  groups of artists. They  presented    paintings, Installations and other types of art  inspired by the theme of  "human-technology-nature" coexistence.  They used new media art practice as the main medium, and images such as plants and rocks. Their message: express your own exploration of the roots of ancient Chinese culture.

The Venice Biennale is one of the most influential art exhibitions in the world. The International Visual Art Biennale and the International Architecture Biennale are held alternately every other year. It is reported that a total of 79 national pavilions participated in this event, and a total of 213 artists from 58 countries around the world participated in the theme exhibition, presenting nearly 1,500 works.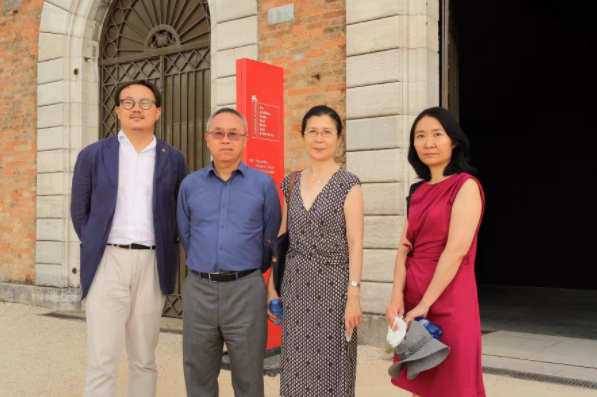 Ambassador Li Junhua (second from left), his wife Bai Yongjie (third from left), and Cultural Counselor Xu Rong (first from right) have a group photo at the entrance of the China Pavilion[Photo/CAEG]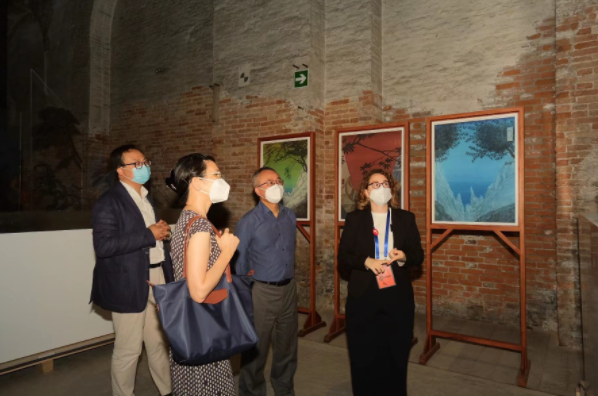 A staff gives the ambassador's party a tour of the China Pavilion  [Photo/CAEG]