China's "porcelain capital" holds Ceramic Art Biennale
With the theme "The Spirit of Ceramics," the Jingdezhen International Ceramic Art Biennale 2021 was held in Jingdezhen, east China's Jiangxi province, featuring 206 ceramic artworks from around the world.


The Jingdezhen International Ceramic Art Biennale 2021 is held in Jingdezhen, east China's Jiangxi province. [Photo/CAEG]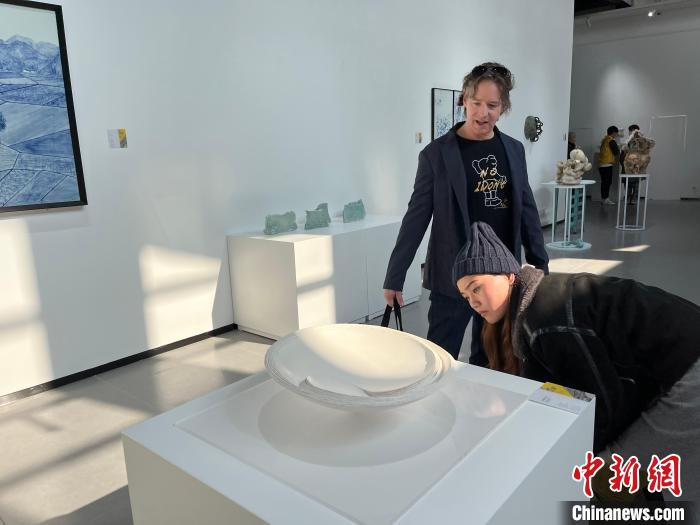 Visitors view works at the Jingdezhen International Ceramic Art Biennale 2021 in Jingdezhen, east China's Jiangxi Province. [Photo/chinanews.com]
The works shortlisted for the exhibition reflect the latest achievements of contemporary ceramic art in the past few years, including the relationship between inheritance and innovation, the application and expression of new materials and new techniques in the new era, and the contemporary transformation of craftsmanship and aesthetic interpretation, as well as the cultural attributes of regional materials presented across cultures and regions.

A series of independent exhibitions, parallel exhibitions and supporting activities will also be held during the event.

The independent exhibition White - Italian Contemporary Ceramic Art Exhibition held at the Taoxichuan Art Museum in Jingdezhen was jointly launched by the Biennale Organizing Committee, China Arts and Entertainment Group Ltd. (CAEG) and Faenza, the capital of Italian ceramics. The exhibition aims to illustrate the application of ceramic materials in Italian contemporary ceramic art and explore the practice of Italian artists' original ideas in ceramic art.

The parallel exhibition Fusion - Jingdezhen International Contemporary Ceramic Painting Nomination Exhibition held at the Art Museum of Sanbao Cultural and Creative Center in Jingdezhen reproduced 100 ceramic paintings with different techniques, forms and styles in multiple directions. The new look of contemporary world ceramic painting art shows the latest achievements of Chinese and foreign artists in the field of ceramic painting.

During the Biennale, the Jingdezhen Ceramic Institute, Alfred University Art Museum and International Ceramic Art Society will also lead an initiative to establish the Belt and RoadInternational Ceramic Education Alliance and hold the inaugural meeting of the International Ceramic Education Alliance to discuss the development direction of ceramic art education, as well as challenges facing ceramic education in the post-epidemic era.