Chinese culture that goes beyond borders
Editor's note: People-to-people exchanges are deepening the connections between countries participating in the Belt and Road Initiative. This column celebrates the efforts of those working toward a shared future.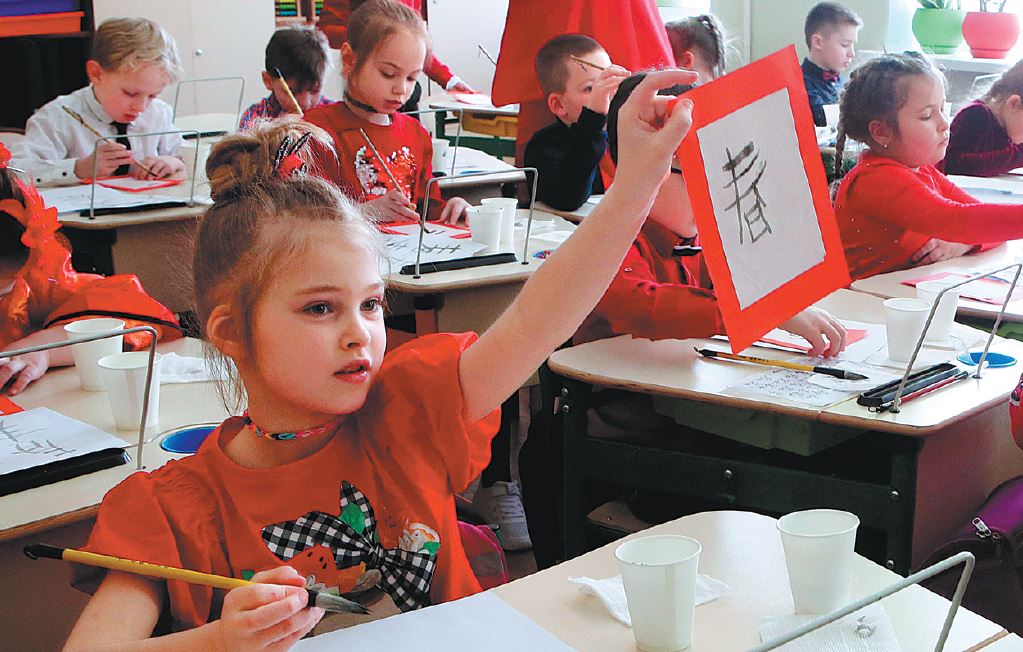 Ukrainian pupils practice Chinese calligraphy at an oriental languages school in Kiev on Feb 15. [Photo/Xinhua]
Career ambitions and curiosity about another civilization fuel thirst for knowledge

Samuel Esteban's romance with Chinese began when he was a high school student. The Costa Rican soon had many Chinese friends who gave him insights into China's culture, which stirred his interest even more.

"It's just amazing that China has so many years of history," Esteban says. "It's really interesting learning about China's dynasties and how they worked and how the country was formed."

The 20-year-old decided to learn the language after what he called a "cool moment". That was three years ago when he had just been confronted with his first word in Chinese, courtesy of a Chinese friend, who was amazed when Esteban immediately lobbed the word back at him, tone perfect.

"How's that possible?" Esteban quotes the friend as saying. "This is your first day trying to pronounce any Chinese word, and you got the tone right."

Esteban then embarked on his Chinese learning journey, in 2018, and the following year, to further his study, went to the Confucius Institute of the University of Costa Rica in San Jose, which, like its peers around the world, teaches Chinese language and culture.

Sharing Esteban's passion, more and more people in Costa Rica, with a population of 5 million, are learning Chinese.

In 2010 the country's Confucius Institute, the first of its kind in Latin America, welcomed 207 Chinese learners and has since enjoyed steady growth in enrollments. The number rose to 884 in 2019, and last year the institute had 1,206 students, a rise particularly notable because of the fact that it was at a time when the pandemic had forced classes to go online.

"Learning Chinese opens new opportunities for Costa Ricans and leads them to better understand Chinese culture," says Kuok Wa Chao, director of the Confucius Institute in San Jose.

"Cultural exchanges promoted by the Belt and Road Initiative between China and Costa Rica help boost this interest in the language."

A Yemeni instructor teaches students Chinese in the capital Sanaa last year. [Photo/Xinhua]
Globally, more than 20 million people in more than 180 countries and regions are learning Chinese, according to a report released in June by China's Ministry of Education. More than 70 countries have incorporated Chinese-language courses into their national education systems. Chinese has become an official language of the United Nations World Tourism Organization since Jan 25.

Chinese-language tests have also proliferated in recent years. Forty million Chinese-language tests including HSK(Chinese Proficiency Test) and YCT (Youth Chinese Test) were sat in the 13th Five-Year Plan (2016-20) period, the Ministry of Education says.

Liang Haoguang, executive director of the China Academy of the Belt and Road Initiative, says that with China's continuing economic growth and increasing international influence, more and more foreigners see Chinese in the context of its place in the vast market that is China.

Demand for those who have mastered the language is growing, Liang says.

"An increasing number of Chinese companies are investing in countries that are part of the BRI, and they crave those who can speak and write Chinese. This alone provides many career opportunities.

"Moreover, with closer trade ties between China and those countries, local companies also need (foreign) employees who know Chinese."

With globalization a new trend is appearing, Liang says.

"The BRI has facilitated cultural exchanges between China and other countries, which motivates more and more foreigners to learn the language not only for financial reasons but also out of curiosity about a different culture. This makes Chinese an alluring option when they choose to learn a second language."

A Lao student performs during the Chinese Bridge, a Chinese-language proficiency competition, in Vientiane, Laos, last year. [Photo/Xinhua]
In 2015, during a state visit to the United Kingdom, Chinese President Xi Jinping said that language "is the key to learning about a country and its culture".

Embracing different cultures no doubt results in more people-to-people exchanges and mutual learning among civilizations, which, as Xi said in 2019, "is a sure way to eliminate estrangement and misunderstanding and promote mutual understanding among nations".

Xi made the remarks at the opening ceremony of the Conference on Dialogue of Asian Civilizations at the China National Convention Center in Beijing. He also stressed that people are the "best bridge" for exchanges.

So for many foreigners, learning Chinese is not just about getting to know another culture, but also getting Chinese more involved with their own culture and civilizations.

Noppawan Sereesuntiwong, 40, now a small-business owner in Thailand, traveled to China in 2018 to learn Chinese after gaining a master's degree in the UK.

Inspiration from contest

A year later she took part in the Silk Road Youth International Sand Painting Competition, co-organized by the Chinese People's Association for Friendship with Foreign Countries and the Silk Road Cities Alliance, and won the Most Potential Award.

During the competition she had the chance to take a look at sand paintings of artists from China, Russia and Pakistan.

"They helped me further understand the culture and art of their countries," she says.

After winning the award, she also had the opportunity to show her artwork to many others, but for her the most important thing was that she could promote Thai culture to Chinese people by attending cultural exchange events at the Thai embassy in Beijing.

"Learning Chinese has brought me opportunities to communicate with people from different cultural backgrounds. It's a mutual process. When we (foreigners) get to know more about Chinese culture, Chinese people are also learning something about our culture."

Participants show off their skills in a Chinese culture course at the University of Colombo, Sri Lanka, last year. [Photo/Xinhua]
New forms of learning Chinese have emerged in recent years. Advanced internet technology has brought many Chinese learners online, learning from social media platforms and smartphone apps.

In a Chinese learning group on Facebook with more than 57,000 members, many talk about their learning progress, and some seek learning partners including native speakers to form a mutual study group.

Proprietors of language learning apps such as Duolingo have also ridden this wave of enthusiasm. Duolingo started its Chinese learning courses in 2017, and now more than 5.5 million users worldwide are learning Chinese using the apps.

Last year, amid the pandemic, more than 30 million people were said to have started learning a language on Duolingo, Chinese being one of those growing fastest in popularity.

Traditional face-to-face teaching institutions have also moved their classes online.

James Yang's Really Language Institute is one of them. Yang has been involved in international Chinese education for 20 years. He co-founded the Chinese teaching company in Tianjin in 2010, and in 2017 its online courses became available to people worldwide.

Of the many thousands of people doing online courses, Yang says, most are from countries participating in the BRI, especially in Southeast Asia.

Yang and other teachers in the company have integrated Chinese culture into the syllabus just as many others do. Interestingly, he says, despite Chinese traditions, foreigners are sometimes more attracted by China's "new four inventions", namely, e-commerce, mobile payment, bicycle-sharing and high-speed rail.

"When we talk about Chinese culture we always focus on the traditional part, but in fact they are also interested in online shopping and online payments because China is doing so well in these fields. I think we should introduce modern China and its culture to them too."