Virtual lighting show held to celebrate Lunar New Year
This window display, designed by United Design Lab in collaboration with China Arts and Entertainment Group, is titled "Back to Order" and features traditional and historical Chinese symbols. [Photo/CAEG]
With Lunar New Year celebrations largely moving from the streets to screens this year, the pandemic-driven transition has failed to dampen the spirits of those enjoying Spring Festival.

In the US, a lighting show sponsored by the Ministry of Culture and Tourism of China and supported by the Chinese Consulate General in New York was beamed out at the Empire State Building on Feb 10 to honor the start of Lunar New Year celebrations.

"May the Year of the Ox bring us more opportunities to expand our partnership and cooperation," Chinese Consul General in New York Huang Ping said at the virtual ceremony. The diplomat expressed the hope that the Empire State Building will draw many Chinese visitors after the pandemic.

The lighting show marked the 21st year in a row that the iconic New York building has been illuminated in red for the Lunar New Year.

The building also unveiled a new Spring Festival Window Exhibition in its Fifth Avenue lobby in partnership with the Chinese Consulate General in New York.

The window display, designed by United Design Lab in collaboration with China Arts and Entertainment Group, is titled "Back to Order" and features traditional and historical Chinese symbols. It will last until March 11.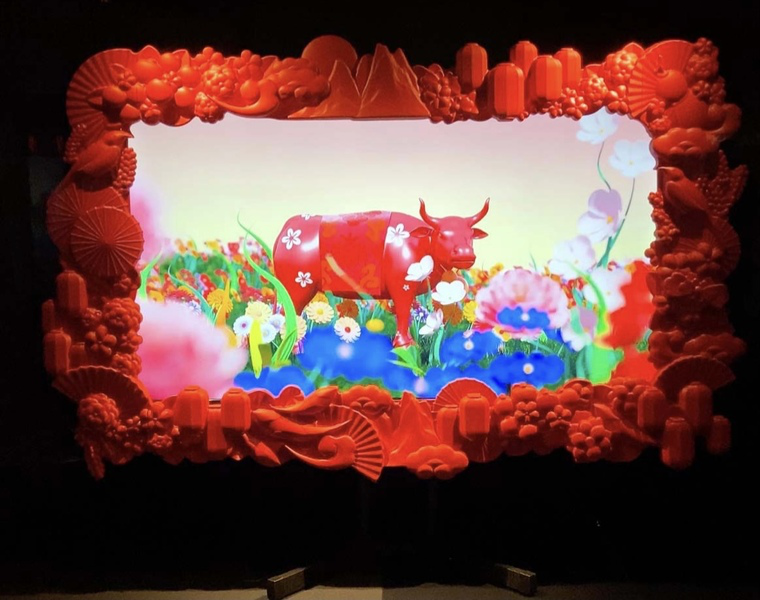 The theme color of the "Spring Back to the Earth" window is red. The welcoming ox walks through a whirlwind of flowers hidden in layers, symbolizing the vitality of the recovery of everything after the beginning of spring. Traditional artistic elements such as gourds, paper fans, and magpies in the animation express wishes of happiness. [Photo/ Culture and Tourism]
The theme color of the window of "Wind Rain" is cloud-like misty blue. The oil-paper umbrella takes the audience to the Jiangnan Water Village. After passing through the clouds and rain, a buffalo creeps through the lake. Together with the egret, which symbolizes longevity, it sends wishes for prosperity and peace in the world. [Photo/ Culture and Tourism]
The theme color of the "Wu Gu Feng Deng" window is gold. The numerous fruits make people want to reach out and pick them. Osmanthus seems to refresh one's heart for a moment, and an ox appears in the center of the screen, which is a picture of a bountiful harvest. [Photo/ Culture and Tourism]