A festive feel takes center stage
The Poly Tiange Traditional Chinese Orchestra will perform classic Chinese works at the Forbidden City Concert Hall on Feb 26. [Photo provided to China Daily]

The Forbidden City Concert Hall will host a series of performances to celebrate Spring Festival, Chen Nan reports.

The Lunar New Year celebration, marking the beginning of the Year of the Ox, begins on Feb 12.This year, people have been encouraged to stay put for the Spring Festival holiday to control the spread of COVID-19, and many people will spend the holiday in Beijing.

Five performances, covering a diversity of art forms, such as Peking Opera, vocal performances and traditional Chinese music, will be staged at the Forbidden City Concert Hall in the capital from Feb 12 to 26.

Star performers from the Jingju Theater Company of Beijing, including Chi Xiaoqiu, Du Zhenjie, Zhang Huifang and Hu Wenge, will present a show, featuring classic Peking Opera pieces.

Jingju, or Peking Opera, was inscribed on UNESCO's intangible cultural heritage list in 2010.

The leading artists emulate the performance styles of different Peking Opera masters, such as Mei Lanfang (1894-1961), Cheng Yanqiu (1904-58) and Yang Baosen (1909-58). They'll present such programs as Auspicious Dragon and Phoenix and The Drunken Concubine.

"It's a longstanding tradition for the Forbidden City Concert Hall to bring performances to audiences during Spring Festival. The programs appeal to families," says Forbidden City Concert Hall general manager Xu Jian. The venue is located inside Zhongshan Park, near Tian'anmen Square.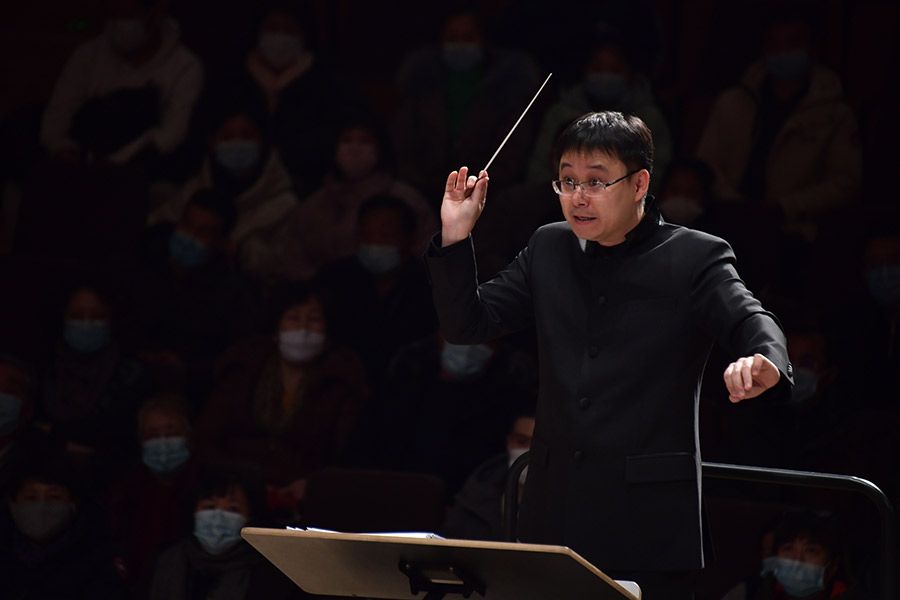 [Photo provided to China Daily]
"It has been 12 years for artists from the Jingju Theater Company of Beijing to perform on the first day of the Lunar New Year," she says.

Audience members must wear facemasks and book tickets online because of the COVID-19 pandemic.

On Feb 13, more performers of traditional Chinese operas, such as Pingju Opera and Hebei Bangzi Opera, will stage a show to showcase these ancient art forms' beauty.

"There are over 270 kinds of Chinese opera. The three major types are Peking, Pingju and Hebei Bangzi, which are popular among audiences in places like Beijing, Tianjin and cities in Hebei province," says veteran Pingju Opera performer Zeng Shaojuan, who'll give a performance on Feb 13.

The 55-year-old started to perform Pingju Opera at age 15 and is a winner of the Plum Performance Award, China's top prize for theater and opera performances.

"We will perform classic pieces and contemporary works," says Peking Opera artist Wang Rongrong, who performs with the Jingju Theater Company of Beijing and is also a winner of the Plum Performance Award. "The pandemic made the Spring Festival special since many people can't go back to their hometowns. We hope our shows could help them feel relaxed and entertained."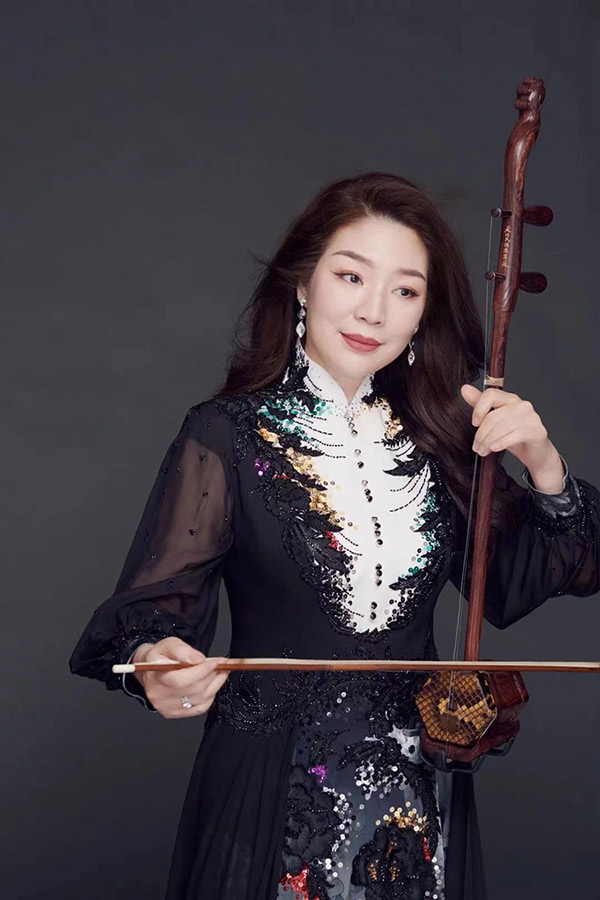 Erhu player Song Fei and pipa player Wu Yuxia will team up to bring a show featuring new arrangements of traditional Chinese music pieces at the Forbidden City Concert Hall during the Spring Festival holiday. [Photo provided to China Daily]
Romantic songs will be performed by such musicians as pianist Zhang Jialin, soprano Gan Lulu and harpist Sun Shimeng during a concert on Feb 14, to celebrate Valentine's Day. Actor Shi Yueling will read romantic poems by the likes of William Shakespeare, Oscar Wilde and Nie Luda.

Traditional Chinese-instrument musicians, including erhu (two-stringed fiddle) player Song Fei and pipa (four-stringed Chinese lute) player Wu Yuxia, will perform with pianists.

"Many of the pieces we'll perform are newly arranged for the festival," Song says.

"Audiences will enjoy a fresh experience of these two ancient musical instruments, the erhu and pipa."

Song adds that folk-music elements from different parts of China, such as Pingtan (storytelling and singing in the Suzhou dialect to music) and ethnic Mongolian music, will be integrated into the pieces.

"The pandemic has made people feel stressed and anxious for a whole year," says conductor Hu Biao, who'll lead the Poly Tiange Traditional Chinese Orchestra to perform at the Forbidden City Concert Hall on Feb 26, which is the date for Lantern Festival this year.
Erhu player Song Fei and pipa player Wu Yuxia will team up to bring a show featuring new arrangements of traditional Chinese music pieces at the Forbidden City Concert Hall during the Spring Festival holiday. [Photo provided to China Daily]
"We need a moment to relax during the festival."

Tianjin Song and Dance Theater president Lu Sheng, who heads the newly founded Poly Tiange Traditional Chinese Orchestra, says repertoires will include classic Chinese works, such as The Spring Festival Overture composed by Li Huanzhi in 1949, Dance of the Yao People by Peng Xiuwen and suona (double-reeded horn) solo piece Family Portrait performed by Zhao Cuncai.

"It'll be the first time for the orchestra to perform in the capital during Spring Festival, and all the music pieces fit the festive atmosphere," Lu says.

Poly Tiange Traditional Chinese Orchestra just gave a series of New Year concerts in Tianjin and plans to tour cities in Hebei province after the Spring Festival holiday.

Contact the writer at chennan@chinadaily.com.cn