China International Chorus Festival ready to launch online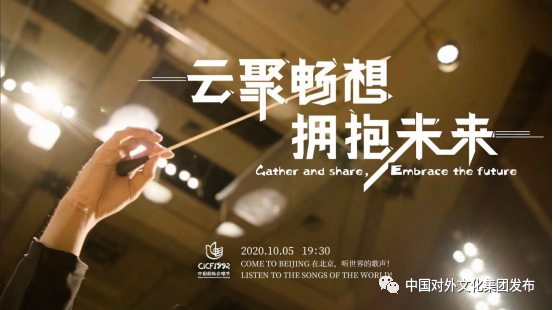 The 15th China International Chorus Festival will be held online at 7:30 pm on Oct 5 (Beijing time) to spread warmth and strength to people around the world via music and songs.
As one of the important cultural activities during the National Day Golden Week, the gorgeous opening ceremony of the festival, with a theme of "Gather and share, Embrace the future", will be viewable by audiences at home and abroad online. It has invited about 30 top international choruses to perform.
This festival is co-organized by the Bureau of International Exchange and Cooperation of the Ministry of Culture and Tourism, China Arts and Entertainment Group Ltd and the Beijing Xicheng District People's Government. It adopts both online and offline forms, and has attracted nearly 300 chorus teams.
"Rainbow Beat"is the opening song of the opening ceremony. It celebrates variety, inclusiveness, popularity and the original intention of the chorus festival. It will refresh listeners with a creative form of "chorus plus symphony", which reflects the flexibility and potential of the choral arts.
A virtual host, "Gong Yu", will be staged at the opening ceremony for the first time. Its name comes from traditional Chinese tones, and embodies the integration of traditional culture and digital technology.
The domestic and overseas chorus groups will in their separate ways express their love and understanding of traditional Chinese culture.
The opening ceremony has specially invited the Beijing medical team that assisted Hubei province in its fight against the COVID-19 to perform to show gratitude and respect to the frontline medical staff.
The China International Chorus Festival has contributed to the public welfare for more than a decade. It has cooperated with the Spring Buds Project of China Children and Teenagers' Fund and the Project Hope of the China Youth Development Foundation to help children in poor areas to enjoy the arts. The festival provides children with a stage and cultivates their interest in the arts.
A training program for music teachers will also be launched at the festival, aimed at improving the basic quality of music teachers in primary and secondary schools. The program targets poor areas to help children there to establish self-confidence and achieve their dreams.
After 28 years of development, the China International Chorus Festival has developed into the world's second and Asia's largest international chorus festival. Top chorus groups from five continents will attend, including British Schola Cantorum of Oxford, Italian Piccolo Coro Mariele Ventre Dell'Antoniano, the New Zealand Youth Choir and the Korean a cappella group MayTree.