Chinese artworks debut at Curitiba Biennial, Brazil
The Fourth Meeting of the BRICS Ministers of Culture is about to be held this month in Curitiba, Brazil. A special exhibition on Chinese contemporary art, Transformative Creation - 5 Artists From China, opened in the Museu Oscar Niemeyer on September 21, 2019 (local time), as a key component of the ministerial meeting.
The activity was sponsored by China's Ministry of Culture and Tourism and the Chinese Embassy to Brazil, hosted by the China Arts and Entertainment Group Ltd, and curated by Fan Di'an, president of China Artists Association and head of Central Academy of Fine Arts.
"Five Artists from China - Transformative Creation" exhibition in the Museu Oscar Niemeyer, Curitiba, Brazil
This themed exhibition is also part of the 14th Curitiba Biennial. Artists and institutions from all over the world participated in the opening ceremony of the Biennial. The Chinese ambassadress Lu Yanliu attended the ceremony, while the Chinese Cultural Counselor to Brazil, Shu Jianping, addressed the event.
Counselor Shu Jianping said that many Chinese artists have been part of this biennial, a window for them to display their works, talent and creativity. Hosting this exhibition within the framework of BRICS further promotes cultural exchanges among member states.
"I want to employ Chinese traditional art to create a new art language, thus reminding the audiences of tradition when they see innovation and making our art languages diversified and global," Chinese artist Li Hongbo said during an interview.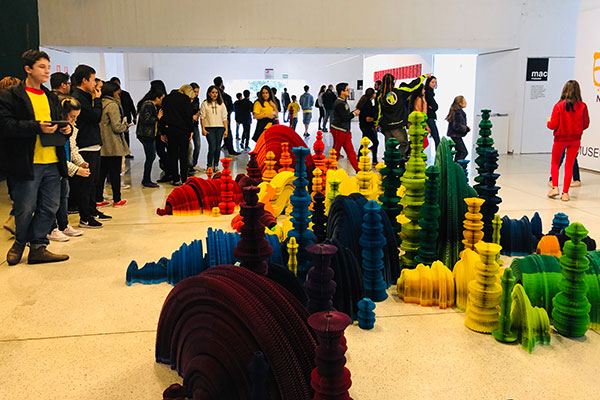 Fairytale World by artist Li Hongbo
This exhibition, a key part of the BRICS joint exhibition, shows 6 pieces of artwork, ranging from painting, sculpture and installation to videos created by Chinese artists Hu Wei, Li Bangyao, Li Hongbo, Wu Yongping and Yang Chun.
The exhibition selected works representing the transformation of Chinese traditional art into contemporary art, and presented them in various art languages with distinctive aesthetic approaches in a bid to reflect the artists' understanding of "transformative creation" and the unique contemporariness of their works. It highlighted the cultural awareness and innovative spirit of contemporary Chinese artists.
On the day of opening, many representatives from art institutions, curators and viewers were attracted to the exhibition. Interviewed visitors claimed that this exhibition was the best of the year and one of the most popular exhibitions hosted in the museum.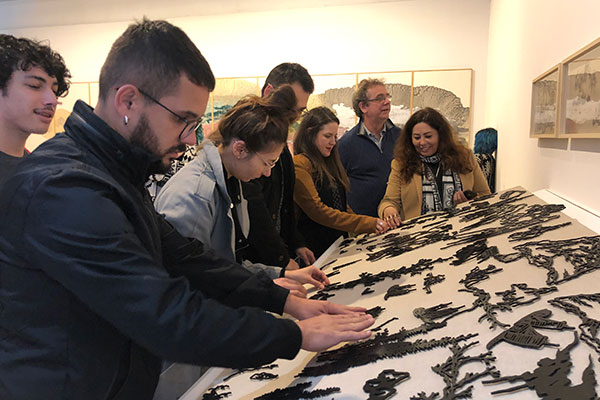 Visitors play with the drawing elements from Shan Shui Pu ("Landscape Painting")
Curitiba in southern Brazil is the capital city of Paraná and has significant cultural influence across the country. Launched in 1993, the Curitiba Biennial is one of the most influential international biennials in Latin America and even the world. The 14th Curitiba Biennial is held from September 21, 2019 to February 23, 2020 in seven local museums, 20 art galleries and studios, and more than 20 mobile public spaces.