Exhibition held to celebrate China-Tunisia art exchange
A painting exhibition was held Friday at the Embassy of the Republic of Tunisia to China to commemorate art exchange activities between China and Tunisia. The event, "A Retrospect on China-Tunisia Artists Exchange Visits and Dialogues", was jointly held by the Tunisian Embassy and the China Arts and Entertainment Group Ltd. It was hosted by Tunisian Ambassador Dhia Khaled and his wife, Sonia Khaled.
The event not only featured a retrospective effort on the past exchange visits in the art and culture field, but also a prospective look to the future, as how to open up a new chapter of people-to-people dialogue.
To advance the cultural exchange and cooperation momentum between China and the Arab countries, China's Ministry of Culture and Tourism initiated the China-Arab Cultural Journey Along the Silk Road brand event in 2013. The ministry also organized Chinese artists to visit Arab countries for performances and folk art learning and collection. Some of the works featured in the exhibition are from six Chinese artists who visited Tunisia from Oct 15 to 27, 2017.
These creations absorbed the beauty of Tunisia in the eyes of those artists from their close to 10 days of sightseeing, walking dialogue and concentrated creation in the country. What is more, the unique and diversified cultural charm of Tunisia is perfectly brought out with Chinese ink painting elements.
Concurrently, the China Arts and Entertainment Group has held a number of activities, including Insight of China - Workshop for Well-known Arab Artists in China, to disseminate Chinese culture and boost people-to-people exchanges between China and the Arab World since 2009. This is a move supported by the China's Ministry of Culture and Tourism.
As of today, a total of 147 artists (including 14 Tunisian artists) from 22 Arab countries have been invited to visit China. They have been to more than a dozen cities, including Beijing, Hangzhou, Yinchuan, Yichun, Urumqi, Zhoushan, Huangshan, Tongliao, Ningbo, Dunhuang, Chengdu and Lishui. The six works by Tunisian artists on display are a reflection of what they have seen and thought about during their stay in China.
This year marks the 55th anniversary of the establishment of diplomatic ties between China and Tunisia. China and Tunisia enjoy a long history of friendship and that is developing with dynamic momentum. Recent years have witnessed very close contacts and frequent cultural exchanges between the two countries. Various forms of cultural exchange activities have constantly enhanced the mutual understanding and friendship between the two peoples.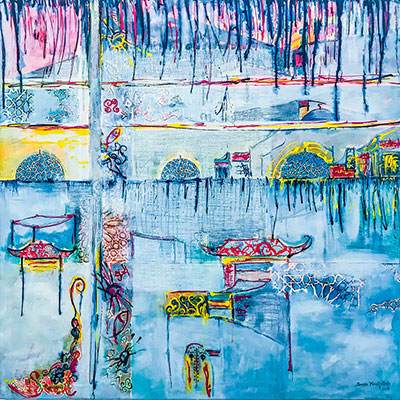 This painting was created by Sonia Khaled, wife of Dhia Khaled, ambassador of the Republic of Tunisia to China.